HSkeleton

Always and forever in my heart.
Goods (128)
About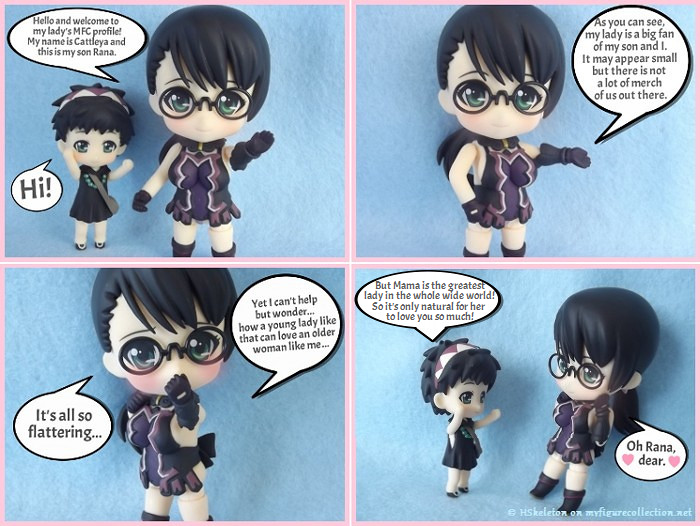 Full size version can be found HERE ☆彡

Introduction & How I Became A Collector...
Hello and welcome! My name is Hannah and I've been collecting figures since mid to late 2009. Even before for then, I always had a thing for collecting something. The list goes on forever, but collecting US state quarters was probably the most major as it is now complete. Though I'm still working on obtaining the US territory quarters, gradually.

I purchased my first figure, Yamaoto Isoroku, at age thirteen in 2007 while on vacation in California. Sparks flew and I knew in that moment she had to be mine. However, I had no knowledge on figures and made some wrong moves such as throwing away her box. Due to the peg on her foot breaking, she also had to be hot glued to her base. The following year, also in California again, I purchased my second, Tandem Twin Merino. But due to low funds she was sold, there were some negative memories attached to her anyway so it's all good.

It wasn't until 2009 where I became interested in collecting figures. That was during the time Kotobukiya's Hetalia one coins were released. Back then US stores and Ebay were my only known source, like for so many newcomers. But that was when I initially came across Cattleya from Queen's Blade and received my first figure of her as a gift. With those two factors, my decision to start figure collecting was finalized in 2010. Thanks to this community it has lead me to retailers like Amimi and proxy services.

Today, I consider myself to be a dedicated collector and can't see it being any other way. I am slow placed compared to others, but when a job comes around that will

more than likely

change. Anything Cattleya is a must as she is my waifu for laifu. ♥ But I also collect Prince Soma & Agni merchandise and cow collectibles on the side. My cow collection is quite humble but my love of cows is not, even cow print (done right) makes me so happy inside.

My venture into anime began thanks to my best friend in fourth or fifth grade when introducing me to Inuyasha. It was my obsession for quite a while, until it gradually progressed to other shows. That's also around when [adult swim] entered my life and it's never left. I did watch anime before that, fairly heavy into Pokemon and Sailor Moon in my younger years (around six to nine), just knew nothing about anime other than "

Hey this is awesome!

" Sailor Uranus/Haruka Tenoh was actually one of my first loves and she is still so dear to me.

My whole life I have loved originality and the obscure, it feels like everything in my life has pointed me in this direction and it's all so wonderful. My tastes are diverse yet particular, and do stray from the norm

but please don't be shy to send a FR!

If you ever get a lengthy or late reply from me it's

never

a bad thing. I can be a real talker at times but please don't let that intimidate you.

You may know me from the infamous picture of the Cattleya A+ statue with my Grandpa. Honestly, the popularity of the picture was very unexpected. And yes, my Grandpa is aware of all the fame it has received and is quite surprised himself. However, he is happy and thanks me for 'making him famous'. I greatly appreciated the love shown by fellow MFC users as well as everyone else and thank everyone for the sweet comments!



UPDATE JULY 2015:

After four long years of hunting and applying I have finally nabbed my first job! Well, as of late May to be exact. It's only two days a week, but it's in such a warm environment with kind hearted people. I feel so privileged. Though I am itching for more days I don't see it happening anytime soon, that's really my only complaint. I hope to make a journal entry about it, but please bare with me as I'm still trying to get comfortable and call it my own.



Interests & Entertainment...
Aside from figure collecting and anime, my interests include art and animation of all sorts, animals, nature, kinks and fetishism, psychology, philosophy, world history and cultures, travel, mental illness, demonology, and fashion. My hobbies also include drawing and photography.

I consider myself an artist and love broadening my horizons. Though my whole life I have have been limited to traditional work (sketching), my dream is to own a tablet and do commissions part time. But I do a whole lot more of admiring of other's work because I am my own biggest critic. Photography is also enjoyable but my camera frustrates me to no avail so the picture quality isn't the greatest at times...



Anime & Television:

South Park and Metalocalypse (both are my number one favorite), TTGL, Panty & Stocking, Samurai Champloo, Mononoke, Black Butler, Shin Chan, Fate/Zero, Ouran High School Host Club, Michiko to Hatchin, Sailor Moon, Cromartie High School, Vermilion Pleasure Night, Hen Zemi, Tokyo Ghoul, Yowamushi Pedal, Xavier: Renegade Angel, China IL, Super Milk Chan, Nyan~ Neko Sugar Girls, Catfish: The TV Show, Face Off, Pitbulls & Paroles, Paranormal Witness, Disappeared, My Crazy Obsession, and My 600-lb Life.



Movies:

Mind Game, Grave of the Fireflies, Monster (2003), Fight Club, Step Brothers, Borat, Martyrs, Insidious, Strangeland, The Holy Mountain, Metalocalypse: The Doomstar Requiem, Disney's Aladdin, Disney's Hunchback of Notre Dame, Despicable Me, The Lorax, Rio, Catfish, Texas Chainsaw Massacre: The Beginning, Silent Hill, The Hills Have Eyes (2007), Densha Otoko, Spirited Away, Cat Soup, Dead Leaves, Puss in Boots, and Beetlejuice.



Music:

Gorillaz, Dethklok, Die Antwoord, Lords of Acid, Rammstein, 1200 Micrograms, and soundtracks. Favorite genres include rave, pop, rock, metal, and acid house... Love a song with a good beat but I'm fairly picky when it comes to music and anything to be honest.



Video Games

: Prince of Persia, Scarface, Mortal Kombat, Bioshock, Ace Attorney, Persona 3 & 4.



Manga & Comics:

Hetalia, BL/yaoi titles (Rules, Twittering Birds Never Fly, Under Grand Hotel, Love Full of Scars, etc), Black Butler, Welcome to the NHK, Tank Girl, and TTGL.



Dream Figures & Goods...


Cattleya (Queen's Blade) by Orchid Seed

Kirika (Eiken) by Orchid Seed (

only in my dreams...

)

Sakura (Taimanin Asagi) by Lilith F or Milestone

Boxer Sonico by Orchid Seed (

item #118444

)

Kau (Togainu no Chi) Plush by GIFT

Bondage Game Figures (Any really)

Amane Nishiki (BlazBlue) by Max Factory

Grell Sutcliff (Kuroshitsuji) plush by GIFT

Cattleya Dakimakura

Cattleya (Queen's Blade) Doll by Azone or Volks

Rana (Queen's Blade) Revoltech by Kaiyodo

Cute shota figures in general
Goals...
Collect every Cattleya figure (17/25)

Become a lifetime subscriber to MFC

Travel to Japan

Learn Japanese (been putting this off for

many

years)

Obtain Daiki Kougyou's Aizawa Sanae

item #1125



Obtain any or all of the Boku no Pico Play Stationary figures

Obtain my Cattleya grail

item #196100



Collect the series of the Seven Deadly Sins

/ ! \ None of the items in my collection are for sale, unless personally stated / ! \
Please visit my

Want to Buy.

list that includes a few must haves of mine,

(mfc link)

.
If you're willing to sell anything on the list please message me!
Diary

Grandpa Had A Heart Attack

1 year ago

2280 23

Ask MFC

BIG Figure BIG Problems

1 year ago

2742 18

Ask MFC

In Dire Need of a Japan Carrier Service!

1 year ago

2128 8
Comments (270)
Details
68908 (59)

21

Severe Part-Timer

Curves, nice hips, antagonists, shota, chubby thick and muscular women, boobs that follow the rules of gravity, spread legs, male twins, MILFs, cow girls, cow print, dark skin (dark nips huge plus), very short hair on women, bad ass characters in general.

Windows 7.

Fujifilm Finepix S2950.
View moreFavorite Pictures (464)