MissJellyBean
Last visit
24 days ago
• Joined
2 years ago
• 5,180 hits (13,775)
About
☆
♡
Welcome
♡
☆
Hi my names

Maddie

, I love cute pastel stuff and animals!
I have many hobbies such as:

Gaming
Anime
Music
Photography
Film
Crafting


and cat girls.

ᵔᴥᵔ

Just to name a few.


If you're interested I have a YouTube channel where I talk about figures and I also have an Instagram.
My YouTube.
My Instagram.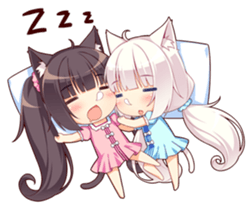 Show(s)
Supernatural, The Walking Dead, The Dead Zone, Anime eg. (Another, No Game No Life, Psycho Pass, Osomatsu-san, Free!, Yuri on Ice) etc.
Game(s)
Nekopara, Corpse Party, Mad Father, Mass Effect, Mario Kart 8, Animal Crossing, Bioshock, Dramatical Murder, etc.