Yahallo

Defrosting Ice King
Will you... listen to my request? I want it all.
Last visit
1 day ago
• Joined
1 year ago
• 13,406 hits (7,630)
❤️My Pride & Joy: The Yui Collection!❤️14
✨How About Some Yui Merch?✨90
⭐The Result Of My Nendoroid Addiction!⭐55
About
Yui: Yo! Someone's Reading This, Please Smile!



Hachiman: (Sigh)



Hey Hey! If you're reading this then that must mean you like me right? Just kidding! Now that that's out of the way, a bit about me: I'm just another ordinary anime fan who just so happened to discover the world of figure collecting after finishing Season 2 of OreGairu back in January 2020. Since then, I've gone pretty deep down this rabbit hole. What can I say, I really want to have a huge collection that I can be proud of! Other than collecting figures, watching anime and reading the occasional manga or light novel, I really love playing video games!

In terms of my personality, I'm basically the result of fusing Hachiman (from OreGairu) and Kazuma (from KonoSuba) with a hint of Naofumi (from Shield Hero). If you were to ask me which "dere" type I am, I'd say that I'm probably (or was) a

Hinedere

. I've also done the MBTI and got: ISTP. If you're more into Enneagrams, I'm a 1w9! Now that you know what kind of person I am, what do you think? Are you impressed? Maybe disgusted? Hopefully a bit of both?



Very Well Then You Amazing People,

Time For Some Shout-outs!






View spoiler

Hide spoiler

BIG_KUPO_NUT (Sold me my very first figure!)
FUTUREBOUND (A rare example of someone who can match my energy.)
BLACKUSAGI2013 (She's an inspiration and role model!)
FIGUREJUNKIE20 (The amount of passion she has for this hobby is beyond me.)
UNCHILD (Shinobu. Nuff said.)
ELUSIVESHADOW (Basically me but Australian?)
AGENTDRAFIRE (Someone who is an even bigger fan of Joker!)
RACHAEL (A great storyteller and listener!)
RIMURUSHION (We're besties for resties!)
MANOFCULTURE (The one and only THICC connoisseur himself!)

Seeing as this is a figure collecting site, I should talk a bit about them. Ultimately, I just want to get figures of my favorite characters! I also have a specific goal: to own as many figures of

Yui Yuigahama

(ENTRY #48781) that I can because she's my

all-time best girl

! If you haven't already, I strongly recommend giving OreGairu a watch and you'll know exactly why she is the best! *ALL of the OreGairu gals are amazing in their own way but Yui specifically,

stole my heart!



Also, I'm not too picky when it comes to buying figures. The main thing is that I like the figure. It doesn't even have to be from a show that I've seen! After all, I got into the Fate series because of ITEM #13777 and watched Darling in the FranXX due to ITEM #675700.

This is getting a bit long so I'll end it here.
Thank you for checking out my little corner of the internet -A



Alright Come On, Show's Over.



Now Shoo! Go Do Something Useful With Your Time!
You Reached The End!
I Guess You Really Did Like Me After All!
About
Occupation
University Student & Part-Timer
Show(s)
My Teen Romantic Comedy SNAFU★Kill la Kill☆The Rising of the Shield Hero★The Devil is a Part-Timer!☆Clannad★Chihayafuru☆Code Geass★K-ON☆Attack on Titan★The Monogatari Series☆Future Diary★Steins;Gate☆Fate/Zero★KonoSuba
Book(s)
I Haven't Read Anything Lately...
Game(s)
The Witcher 3: Wild Hunt★Overwatch☆Pokémon★Call of Duty: Black Ops☆Minecraft★Dark Souls☆Persona 5★Final Fantasy☆Red Dead Redemption★Grand Theft Auto☆Halo★Destiny☆Fallout★Mass Effect★Dragon Age☆Resident Evil★Nier: Automata
MOE Point(s)
Nice★Adorkable☆Zettai Ryouiki
Music
Pop★Rock☆Jazz★Orchestra
Camera
Canon PowerShot SX540HS
List of some of my best girls:
★Yui Yuigahama (OreGairu)★

Ryūko Matoi (Kill la Kill)

Raphtalia (Shield Hero)

Hitagi Senjougahara (Bakemonogatari)
Mai Sakurajima (Bunny Girl Senpai)
Violet (Persona 5 Royal)
List of some of my best boys:
☆Hachiman Hikigaya (OreGairu)☆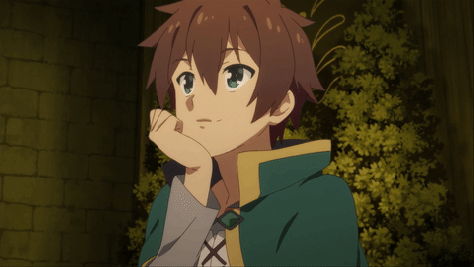 Kazuma Satou (KonoSuba)

Naofumi Iwatani (Shield Hero)


Koyomi Araragi (Bakemonogatari)



Lelouch Lamperouge (Code Geass)

Joker (Persona 5)